pE-FLP
pE-FLP
BBF10K_000016
source
The flippase gene was amplified from pCP20 (e.g. available from the Coli Genetic Stock Center)

Can be used to remove the integration module (including the antibiotic resistance cassette) from pOSIP integrants.


attr.
Drew Endy, Keith Shearwin
Usage
growth
shipping strain
E811 (P2 lysogen)
growth conditions
For propagation, please grow this plasmid in the original strain (E811) In that strain, the strong promoter pE will be repressed, thus avoiding possible toxicity and accumulation of unwanted mutations in the plasmid. Use 50ug/ml ampicillin (100ug/ml may inhibit growth)
antibiotic
Ampicillin, low (50ug/mL)
cloning
overhangs
3' -
No Value
…
No Value
- 5'
sequencing
forward primer
GGAATAAGGGCGACACGGAAATGTTGAATA
reverse primer
CCGTTACATATCAAAGGGAAAACTGTCC
Construct
Safety
other information
No Value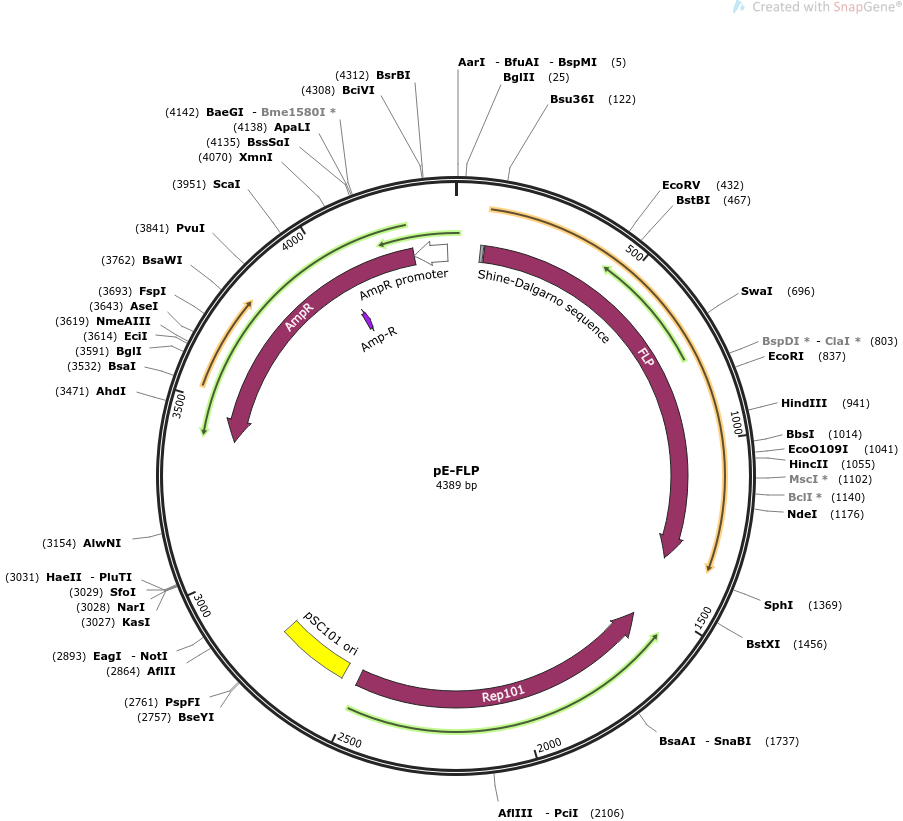 References
protocols and instructions
No Value
citations
One-step cloning and chromosomal integration of DNA. St-Pierre F, Cui L, Priest DG, Endy D, Dodd IB, Shearwin KE. ACS Synth Biol. 2013 Sep 20;2(9):537-41. doi: 10.1021/sb400021j. Epub 2013 May 20. 10.1021/sb400021j PubMed 24050148
intellectual property
We are unaware of third-party property rights claims on uses of this item as of we.