pOSIP-KO (KanR, 186)
pOSIP-KO (KanR, 186)
BBF10K_000492

Please note that there is a E59G mutation in Integrase 186. The mutation does not affect device function.


attr.
Drew Endy, Keith Shearwin
Usage
growth
growth conditions
Contains ccdB, so must be grown in a strain resistant to this product (e.g. DB3.1). Growth a 30C to repress expression of the integrase.
cloning
method
Restriction Ligation
enzyme
Multiple Cloning Site
overhangs
3' -
No Value
…
No Value
- 5'
sequencing
forward primer
TAAACTGCCAGGAATTGGGGATC
reverse primer
GAAACGCAAAAAGGCCATCCGTC
Construct
plasmid name
pOSIP-KO (KanR, 186)
Safety
other information
No Value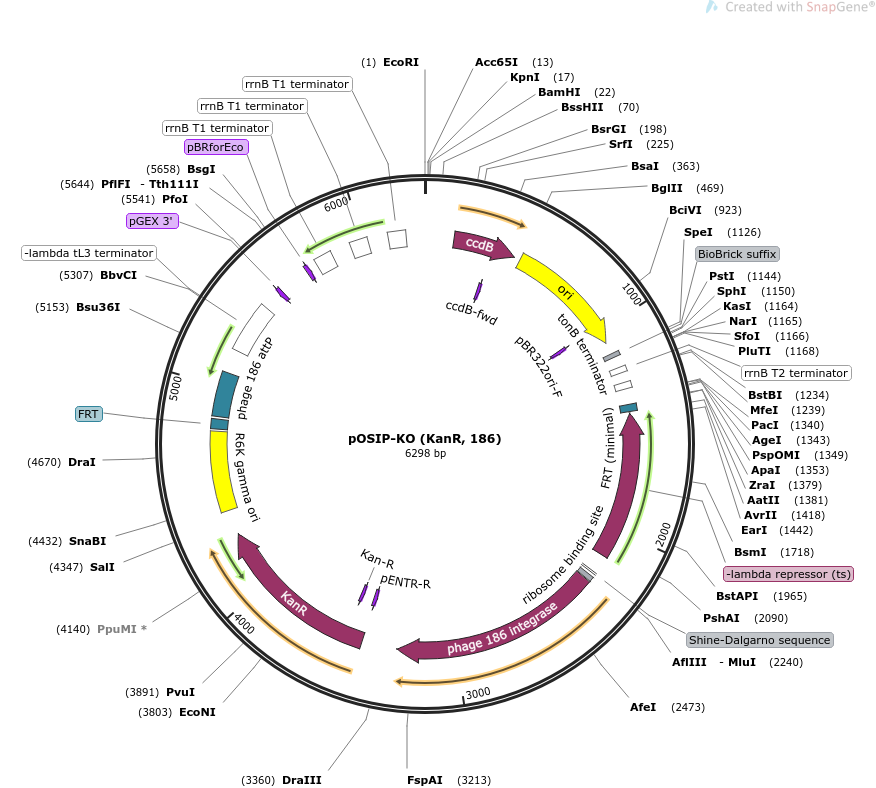 References
protocols and instructions
No Value
citations
One-step cloning and chromosomal integration of DNA. St-Pierre F, Cui L, Priest DG, Endy D, Dodd IB, Shearwin KE. ACS Synth Biol. 2013 Sep 20;2(9):537-41. doi: 10.1021/sb400021j. Epub 2013 May 20. 10.1021/sb400021j PubMed 24050148
intellectual property
We are unaware of third-party property rights claims on uses of this item as of we.