ispG
4-hydroxy-3-methylbut-2-en-1-yl diphosphate synthase (flavodoxin)
BBF10K_001077
source
Escherichia coli str. K-12 substr. MG1655

Converts 2C-methyl-D-erythritol 2,4-cyclodiphosphate (ME-2,4cPP) into 1-hydroxy-2-methyl-2-(E)-butenyl 4-diphosphate, using flavodoxin as the reducing agent.


Usage
growth
shipping strain
Escherichia coli Top10
growth conditions
37 C, shaking 300 rpm
cloning
overhangs
3' - AATG … GCTT - 5'
Construct
Safety
other information
No Value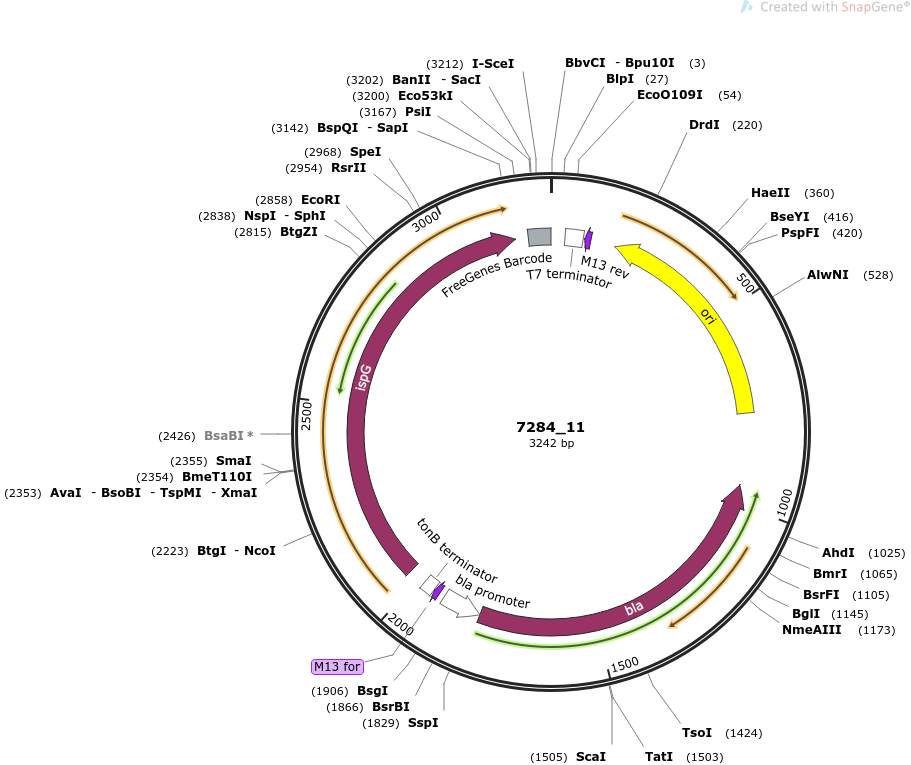 References
Available Elsewhere
FALSE
citations
[1] Calles, J., Justice, I., Brinkley, D., Garcia, A. & Endy, D. Fail-safe genetic codes designed to intrinsically contain engineered organisms. Nucleic Acids Res. (2019). doi:10.1093/nar/gkz745 [2] Baba, T. et al. Construction of Escherichia coli K-12 in-frame, single-gene knockout mutants: the Keio collection. Mol. Syst. Biol. 2, 2006.0008 (2006)
intellectual property
We are unaware of third-party property rights claims on uses of this item.