rpoE
RNA polymerase sigma E factor
BBF10K_001083
source
Escherichia coli str. K-12 substr. MG1655

Sigma factors are initiation factors that promote the attachment of RNA polymerase (RNAP) to specific initiation sites and are then released (PubMed:7889935, PubMed:2691330, PubMed:9159522, PubMed:9159523). Extracytoplasmic function (ECF) sigma-E controls the envelope stress response, responding to periplasmic protein stress, increased levels of periplasmic lipopolysaccharide (LPS) as well as heat shock (PubMed:7889935) and oxidative stress; it controls protein processing in the extracytoplasmic compartment. The 90 member regulon consists of the genes necessary for the synthesis and maintenance of both proteins and LPS of the outer membrane (PubMed:7889934, PubMed:11274153, PubMed:16336047). Indirectly activates transcription of csrB and csrC, 2 sRNAs that antagonize translational regulator CsrA, linking envelope stress, the stringent response and the catabolite repression systems (PubMed:28924029).


Usage
growth
shipping strain
Escherichia coli Top10
growth conditions
37 C, shaking 300 rpm
cloning
overhangs
3' - AATG … GCTT - 5'
Construct
Safety
other information
No Value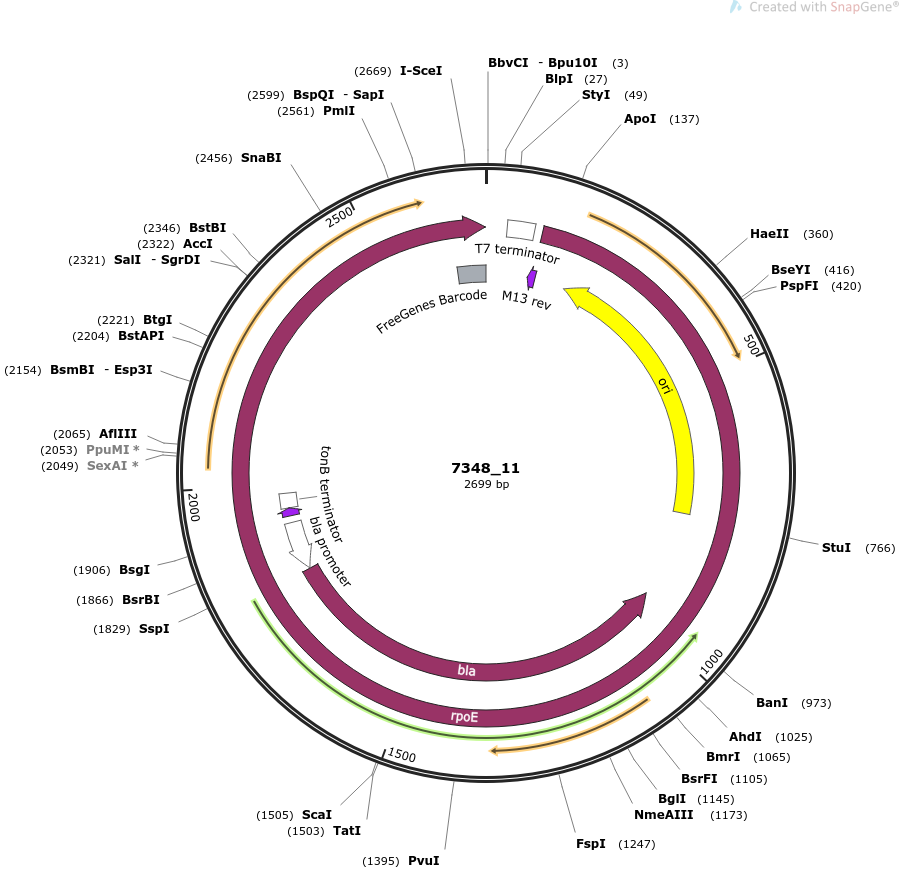 References
Available Elsewhere
FALSE
citations
[1] Calles, J., Justice, I., Brinkley, D., Garcia, A. & Endy, D. Fail-safe genetic codes designed to intrinsically contain engineered organisms. Nucleic Acids Res. (2019). doi:10.1093/nar/gkz745 [2] Baba, T. et al. Construction of Escherichia coli K-12 in-frame, single-gene knockout mutants: the Keio collection. Mol. Syst. Biol. 2, 2006.0008 (2006)
intellectual property
We are unaware of third-party property rights claims on uses of this item.