yibD
diacylglycerol beta-glycosyltransferase
BBF10K_002906
source
Mycoplasma pneumoniae M129

Processive glycosyltransferase involved in the biosynthesis of both the non-bilayer-prone beta-monoglycosyldiacylglycerol and the bilayer-forming membrane lipid glucosyl-galactosyldiacylglycerol and digalactosyl-diacylglycerol. These components contribute to regulate the properties and stability of the membrane. Catalyzes sequentially the transfers of glucosyl or galactosyl residues from UDP-Glc or UDP-Gal to diacylglycerol (DAG) acceptor to form the corresponding beta-glycosyl-DAG (3-O-(beta-D-glycopyranosyl)-1,2-diacyl-sn-glycerol). Then, only beta-galactosyl-DAG (3-O-(beta-D-galactopyranosyl)-1,2-diacyl-sn-glycerol) can act as acceptor to give the beta-glycosyl-beta-galactosyl-DAG product (3-O-(beta-D-glycopyranosyl-(1->6)-D-galactopyranosyl)-1,2-diacyl-sn-glycerol). It can also use alpha-Gal-beta-Gal-DAG, ceramide (Cer) and beta-Gal-Cer as sugar acceptors. The enzyme is supposed to be mainly a galactosyltransferase, with higher glycosyltransferase activity for the addition of the second glycosyl on beta-Gal-DAG as acceptor. The main glycolipid produced in vivo is beta-Glc-beta-Gal-DAG with a beta-1,6 linkage.


Usage
growth
shipping strain
Escherichia coli Top10
growth conditions
37 C, shaking 300 rpm
cloning
overhangs
3' - AATG … GCTT - 5'
Construct
Safety
other information
No Value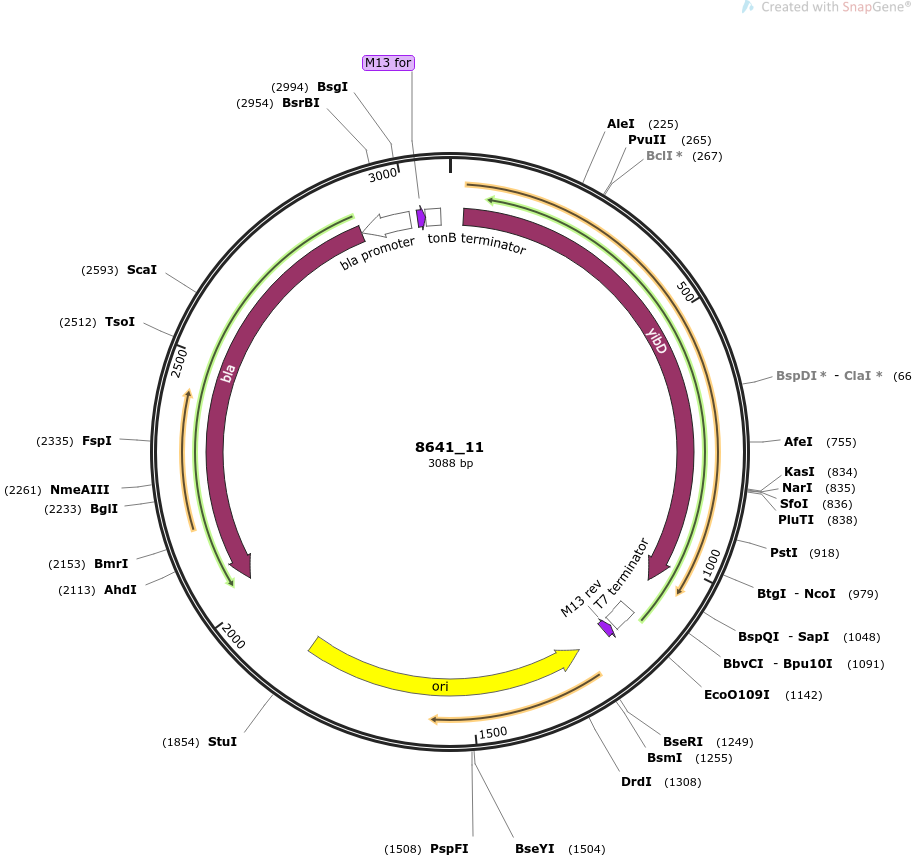 References
Available Elsewhere
FALSE
intellectual property
We are unaware of third-party property rights claims on uses of this item.