rseP
Regulator of sigma-E protease RseP
BBF10K_003152
source
Escherichia coli str. K-12 substr. MG1655

A site-2 regulated intramembrane protease (S2P) that cleaves the peptide bond between 'Ala-108' and 'Cys-109' in the transmembrane region of RseA. Part of a regulated intramembrane proteolysis (RIP) cascade. Acts on DegS-cleaved RseA to release the cytoplasmic domain of RseA, residue 'Val-148' of RseA may be required for this. This provides the cell with sigma-E (RpoE) activity through the proteolysis of RseA. Can also cleave sequences in transmembrane regions of other proteins (such as LacY) as well as liberated signal peptides of beta-lactamase, OmpF, LivK, SecM, PhoA, LivJ, OmpC, Lpp and TorA, probably within the membrane.


Usage
growth
shipping strain
Escherichia coli Top10
growth conditions
37 C, shaking 300 rpm
cloning
overhangs
3' - AATG … GCTT - 5'
Construct
Safety
other information
No Value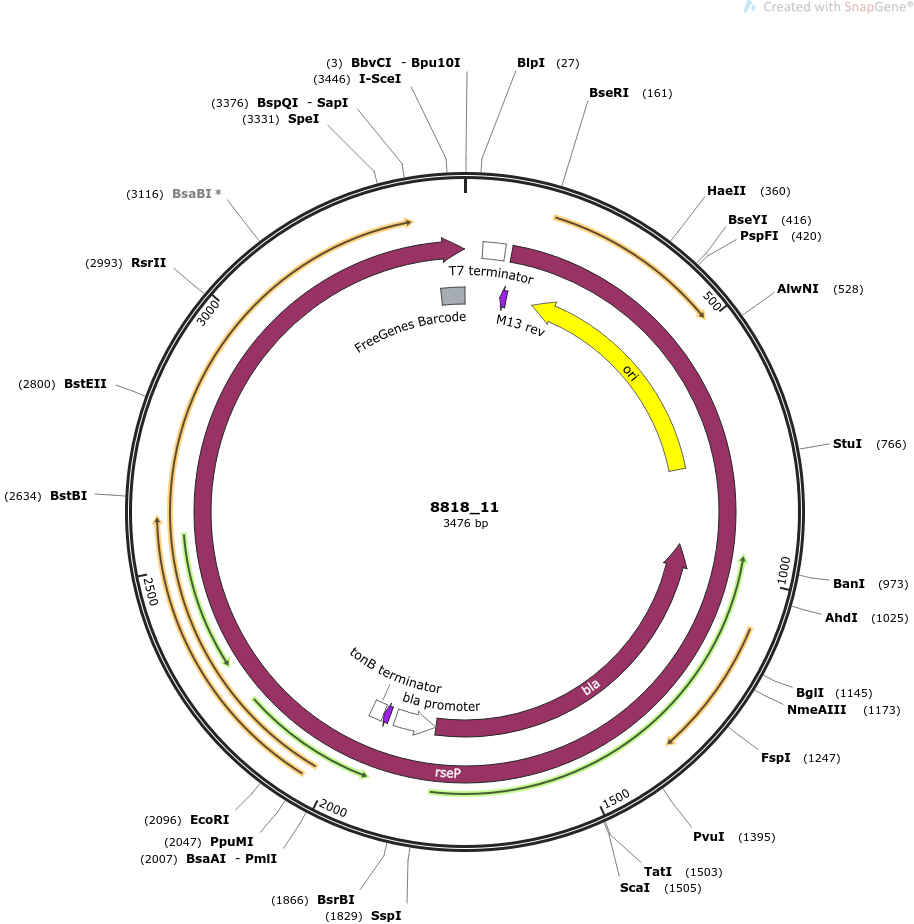 References
Available Elsewhere
FALSE
citations
[1] Calles, J., Justice, I., Brinkley, D., Garcia, A. & Endy, D. Fail-safe genetic codes designed to intrinsically contain engineered organisms. Nucleic Acids Res. (2019). doi:10.1093/nar/gkz745 [2] Baba, T. et al. Construction of Escherichia coli K-12 in-frame, single-gene knockout mutants: the Keio collection. Mol. Syst. Biol. 2, 2006.0008 (2006)
intellectual property
We are unaware of third-party property rights claims on uses of this item.