K12polLF
DNA Polymerase I, Large (Klenow) Fragment
BBF10K_003248
source
Escherichia coli (strain K12)

DNA polymerase fragment that retains 5' → 3' polymerase activity and 3' → 5' exonuclease activity for removal of precoding nucleotides and proofreading, but loses 5' → 3' exonuclease activity. Usable for synthesis of double-stranded DNA from single-stranded templates, filling in of receded 3' ends of DNA fragments to make 5' overhang blunt, digesting away protruding 3' overhangs, preparation of radioactive DNA probes.


attr.
Chiara Gandini, Open Bioeconomy Lab
Usage
growth
shipping strain
Escherichia coli Top10
growth conditions
37 C, shaking 300 rpm
cloning
overhangs
3' - AATG … GCTT - 5'
Construct
plasmid name
pOpen-K12polLF
Safety
other information
No Value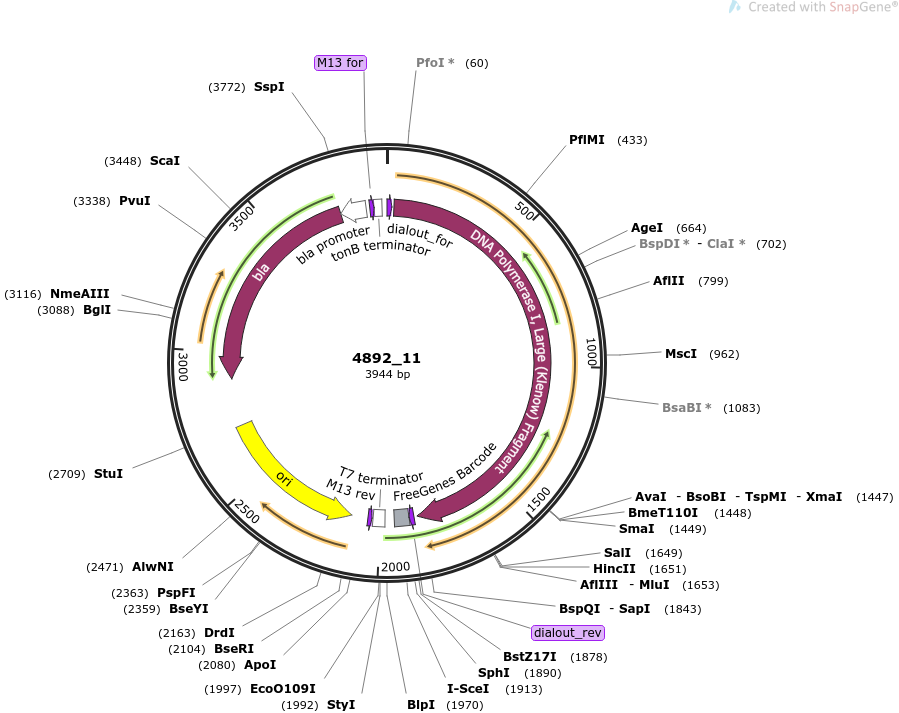 References
Available Elsewhere
FALSE
citations
Klenow, H., & Henningsen, I. (1970). Selective elimination of the exonuclease activity of the deoxyribonucleic acid polymerase from Escherichia coli B by limited proteolysis. Proceedings of the National Academy of Sciences, 65(1), 168-175. Joyce, C.M. and Grindley, N.D., 1983. Construction of a plasmid that overproduces the large proteolytic fragment (Klenow fragment) of DNA polymerase I of Escherichia coli. Proceedings of the National Academy of Sciences, 80(7), pp.1830-1834.
https://doi.org/10.1073/pnas.80.7.1830
Ollis, D.L., Brick, P., Hamlin, R., Xuong, N.G. and Steitz, T.A., 1985. Structure of large fragment of Escherichia coli DNA polymerase I complexed with dTMP. nature, 313(6005), p.762.
intellectual property
We are unaware of third-party property rights claims on uses of this item.