dbh
Sulfolobus DNA Polymerase IV
BBF10K_003266
source
Sulfolobus solfataricus

Thermostable Y-family lesion-bypass DNA Polymerase that efficiently synthesizes DNA across a variety of DNA template lesions; can be used for DNA repair. Poorly processive and error-prone. Involved in untargeted mutagenesis; copies undamaged DNA at stalled replication forks, which arise in vivo from mismatched or misaligned primer ends. These misaligned primers can be extended by PolIV. Exhibits no 3'-5' exonuclease (proofreading) activity.


attr.
Chiara Gandini, Open Bioeconomy Lab
Usage
growth
shipping strain
Escherichia coli Top10
growth conditions
37 C, shaking 300 rpm
cloning
overhangs
3' - AATG … GCTT - 5'
Construct
Safety
other information
No Value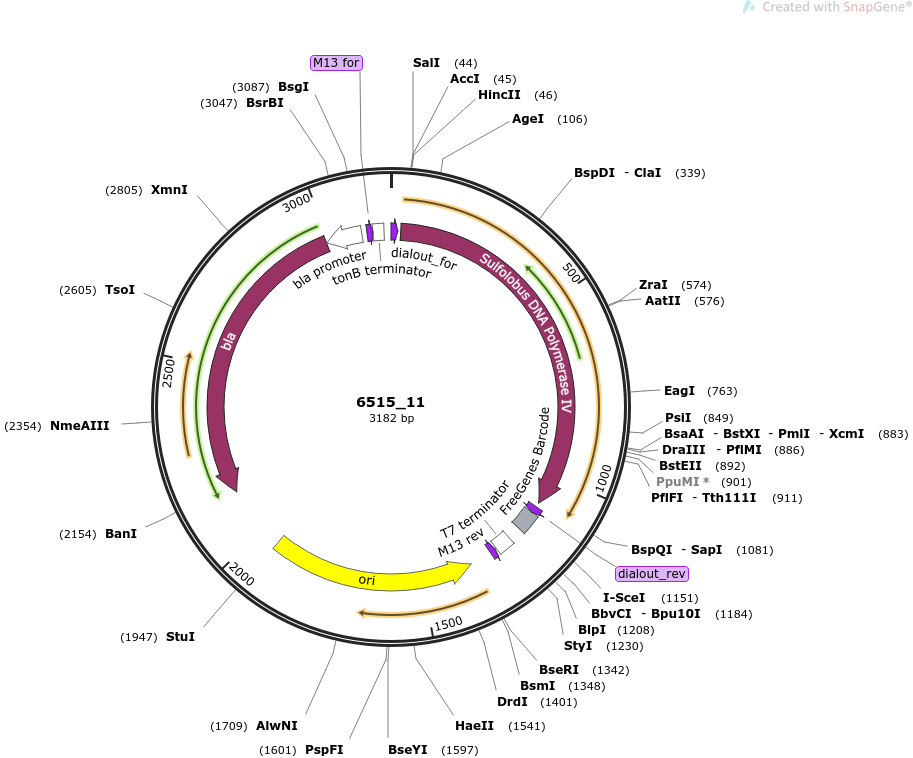 References
Available Elsewhere
FALSE
citations
Pisani, F. M., Martino, C. D., & Rossi, M. (1992). A DNA polymerase from the archaeon Sulfolobus solfataricus shows sequence similarity to family B DNA polymerases. Nucleic acids research, 20(11), 2711-2716. Boudsocq, F., Iwai, S., Hanaoka, F. and Woodgate, R., 2001. Sulfolobus solfataricus P2 DNA polymerase IV (Dpo4): an archaeal DinB-like DNA polymerase with lesion-bypass properties akin to eukaryotic polη. Nucleic acids research, 29(22), pp.4607-4616.
https://doi.org/10.1093/nar/29.22.4607
intellectual property
We are unaware of third-party property rights claims on uses of this item.