TthRT
Thermus thermophilus (Tth) RT
BBF10K_003287
source
Thermus thermophilus

DNA polymerase that efficiently reverse-transcribes RNA in the presence of MnCl2


attr.
Chiara Gandini, Open Bioeconomy Lab
Usage
growth
shipping strain
Escherichia coli Top10
growth conditions
37 C, shaking 300 rpm
cloning
overhangs
3' - AATG … GCTT - 5'
Construct
Safety
other information
No Value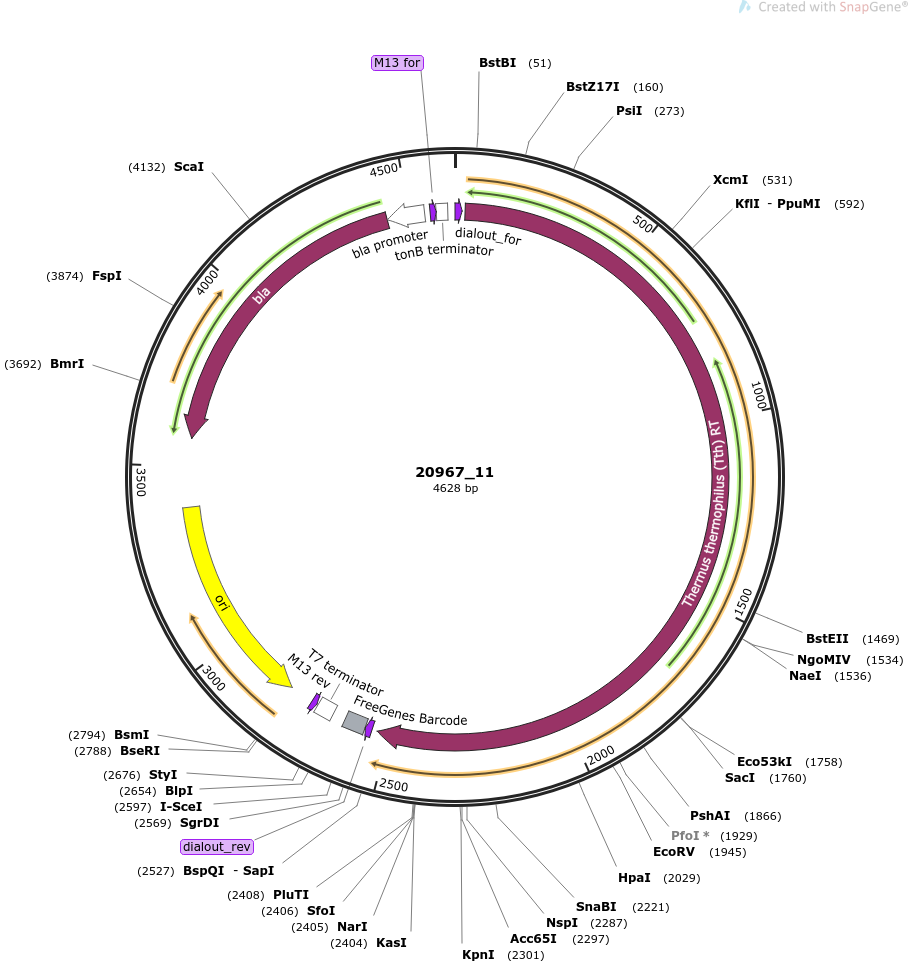 References
Available Elsewhere
FALSE
citations
RÜTTIMANN, C., COTORÁS, M., ZALDÍÅ, J. and VICUÑA, R., 1985. DNA polymerases from the extremely thermophilic bacterium Thermus thermophilus HB‐8. European journal of biochemistry, 149(1), pp.41-46.https://
doi.org/10.1111/j.1432-1033.1985.tb08890.x
Myers, T.W. and Gelfand, D.H., 1991. Reverse transcription and DNA amplification by a Thermus thermophilus DNA polymerase. Biochemistry, 30(31), pp.7661-7666. DOI: 10.1021/bi00245a001 Auer, T., Landre, P.A. and Myers, T.W., 1995. Properties of the 5' - 3'Exonuclease/Ribonuclease H Activity of Thermus thermophilus DNA Polymerase. Biochemistry, 34(15), pp.4994-5002. DOI: 10.1021/bi00015a010
intellectual property
We are unaware of third-party property rights claims on uses of this item.