T7RNAp
T7 RNA Polymerase
BBF10K_003290
source
Escherichia phage T7 (Bacteriophage T7)

Highly processive DNA-dependent RNA polymerase derived from T7 bacteriophage that catalyzes the transcription of class II and class III viral genes. Recognizes a specific promoter sequence and enters first into an 'abortive phase' where very short transcripts are synthesized and released before proceeding to the processive transcription of long RNA chains. Unwinds the double-stranded DNA to expose the coding strand for templating. Participates in the initiation of viral DNA replication presumably by making primers accessible to the DNA polymerase, thus facilitating the DNA opening. Plays also a role in viral DNA packaging, probably by pausing the transcription at the right end of concatemer junction to allow packaging complex recruitment and beginning of the packaging process.


attr.
Chiara Gandini, Open Bioeconomy Lab
Usage
growth
shipping strain
Escherichia coli Top10
growth conditions
37 C, shaking 300 rpm
cloning
overhangs
3' - AATG … GCTT - 5'
Construct
plasmid name
pOpen-T7gene1
Safety
other information
No Value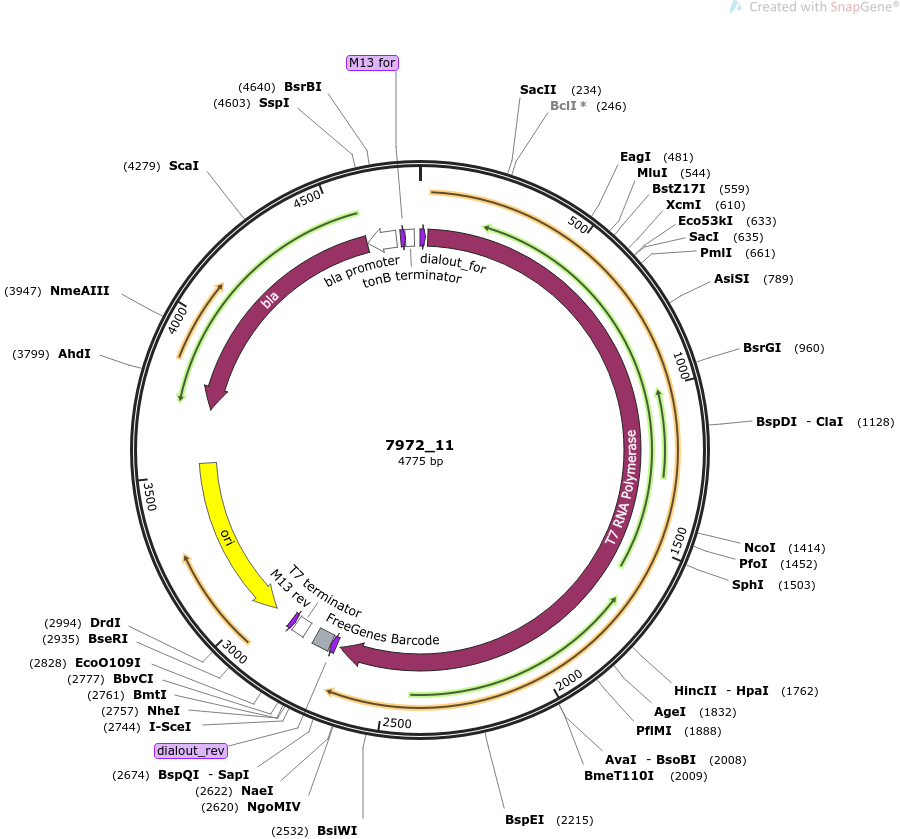 References
Available Elsewhere
FALSE
citations
Arnaud, N., Cheynet, V., Oriol, G., Mandrand, B., & Mallet, F. (1997). Construction and expression of a modular gene encoding bacteriophage T7 RNA polymerase. Gene, 199(1), 149-156.
intellectual property
We are unaware of third-party property rights claims on uses of this item.