rnjA
ribonuclease J 1
BBF10K_000852
source
Bacillus subtilis 168

An RNase that has endonuclease and 5'-3' exonuclease activity, playing a role in both rRNA and mRNA stability and degradation. Endonuclease activity can cleave within 4 nucleotides of the 5'-end of a triphosphorylated RNA. Endonuclease digestion by the RNase J1/J2 complex occurs at a different site and in some cases more efficiently than J1 or J2 alone. The exonuclease activity of the J1/J2 complex is highly processive on substrates longer than 5 nucleotides, on shorter substrates is distributive. Preferentially cleaves ssRNA, possibly in AU-rich regions. The 5'-exonuclease activity acts on 5'-hydroxyl and 5'-monophosphate but not 5'-triphosphate ends; it can digest through stem-loop structures if they are not too stable. Required for maturation of 16S rRNA. Acts preferentially on 16S rRNA precursors after association of the 30S and 50S ribosomal subunits. Plays a role in the secondary pathway of 23S rRNA 5' end maturation. Probably also participates in processing of pre-scRNA (the precursor of the signal recognition particle RNA). Major RNase that degrades both RNAs of the type I toxin-antitoxin system BsrE/SR5 (PubMed:26940229).


Usage
growth
shipping strain
Escherichia coli Top10
growth conditions
37 C, shaking 300 rpm
cloning
overhangs
3' - AATG … GCTT - 5'
Construct
Safety
other information
No Value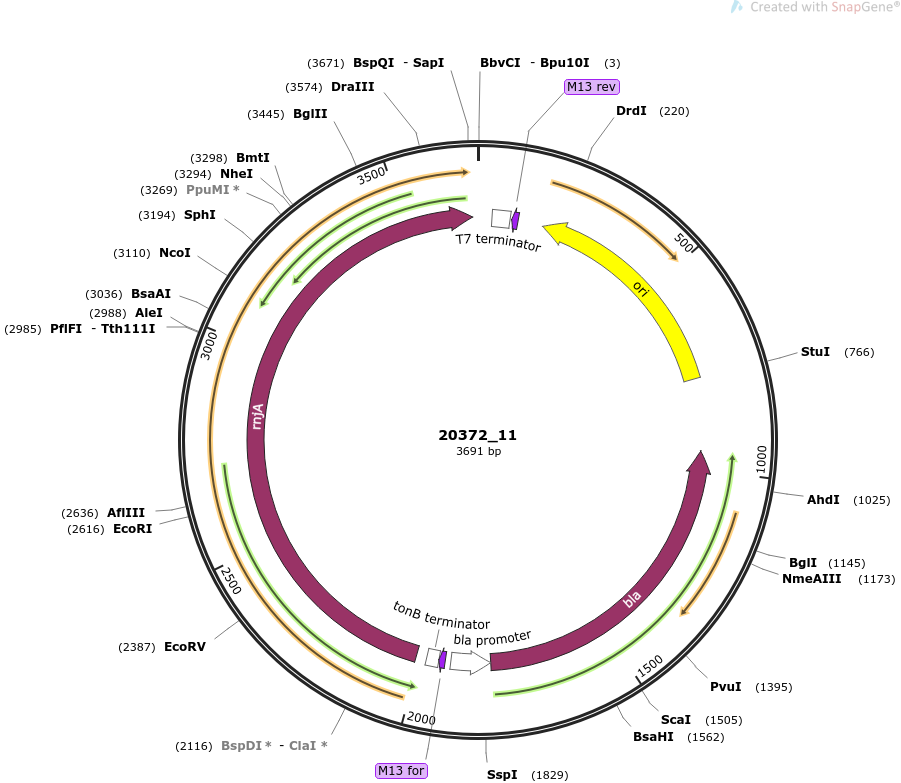 References
Available Elsewhere
FALSE
intellectual property
We are unaware of third-party property rights claims on uses of this item.